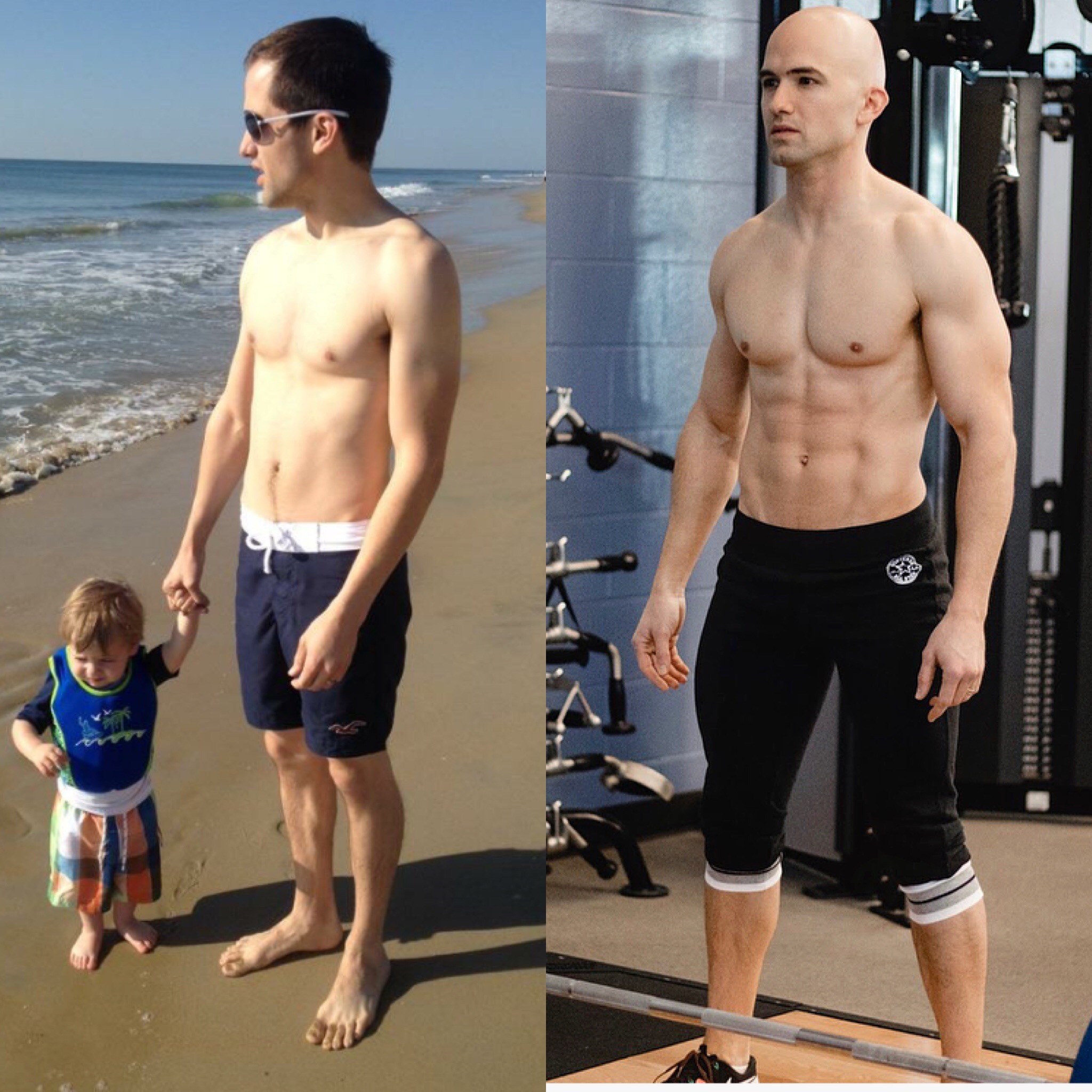 My name is Michael Ashford.
I'm just like you. I've got a family, I've got a full-time job (as a marketing executive at a software company), and I've got my hobbies and passions.
But in 2012 when I went to the beach with my wife and then-almost-2-year-old son, and my wife snapped the picture of me you see on the left, I saw the picture and was hit with the reality that I was not doing all I could to ensure I was taking care of myself — for my sake and for my family's sake.
I was merely getting by, and I decided to change.
In the years since, I've dedicated myself to living a healthy, active lifestyle by working out at least five times a week. I've changed my diet, for health reasons (gluten intolerance) and because so much of our health is directly linked to the foods we consume.
In July 2016, I became a certified personal trainer (NASM-CPT), further enhancing my dedication to fitness and health.
I want to pass my love of fitness and health on to my kids – I have a son and a daughter – and also be healthy myself so that I can live a long, fulfilling life as I grow older. I want to give other busy fathers ideas for how to remain fit and active themselves and use that lifestyle to stay involved in their kids' lives instead of checking out, as I see so many fathers doing.
Fit Dad Fitness is all about equipping fathers to live an active, involved, healthy life with their children.
• Learn more about my membership site: The Daily Fit Dad
• Learn more about my custom, one-on-one coaching
• Read my transformation story as highlighted by Train Magazine and Men's Health Magazine.
Commitment – To yourself and the process

Work Hard – Just because it's hard doesn't mean it's not worth it

Perseverance – Don't let setbacks beat you

Improve – Every day is an opportunity to get better

Be Tough – Mentally and physically

Self-Discipline – Do it even when no one is watching

Great Effort – Give your very best every time

Enthusiasm – Attack your health and fitness with passion

Be Positive – Negativity or fear are counter-productive

Accountability – Be honest with yourself and others

Don't Accept Quitting – If you do so one time it will be easy to do so for the rest of your life

No Self-Limitations – Expect more of yourself

No Shortcuts – Do it right the first time, every time

Consistency – Do it until it becomes who you are

Challenge Yourself – Push beyond the limits of what you think you're capable of

Responsibility – You are responsible for your performance
Online Fitness Coaching & Training
Kickstarting Your Fitness Journey
I'd love to work with you to help you reach your health and fitness goals. Whether its gym workout plans, at-home programs, nutritional advice or anything else health- and fitness-related, I can help.
As an NASM-CPT online fitness coach, I can work with anyone, anywhere, and everything is customized specifically for your needs and your goals. I'll work with you to formulate a plan and provide you the following services:
Initial Fitness Assessment & Goal Setting

A thorough dive into your current level of fitness, as well as your health and injury history

One-on-one video session to discuss your goals, your challenges, your likes and dislikes, and your capacity

Customized Workout Plans

A completely unique plan developed for you to align with your goals, abilities, and access to equipment.

A science-backed approach to phased workouts that appropriately progress you toward your goals.

Access to Client App with Training Videos

Every workout includes the order of exercises, the number of sets and reps, the tempo, rest periods, and any further instruction to give you confidence during your workout.

Check-Ins, Encouragement & Motivation

Weekly check-ins — often daily — via in-app messaging

Monthly progress reviews

24-7 access for questions, support, motivation, exercise critiques and more

Nutritional Advice

I am not a certified nutritionist; however, I often provide my clients a nutrition plan and guidance that aligns their food intake with their exercise plan to deliver optimal results

Work with you to develop calorie targets and macronutrient ratios throughout each phase of your program
14 Fit Rules for Fit Dads
My latest eBook, 14 Fit Rules for Fit Dads, offers practical tips and lessons for any dad looking to up his fitness game.
This quick-hitting eBook provides training and nutrition advice, as well as effective resources that you can use to broaden your knowledge of health and fitness and set yourself up for success as you strive for your goals.
At the end of the eBook, I also discuss what it means to be a Fit Dad and why paying attention to your physical health and well-being is so important — not just for your sake, but for the sake of your family as well.
And its totally free — no questions asked! I want this information in the hands of every dad, so enjoy, and share it with a friend.
Grow Your Own Tomatoes
One of the reasons I started Fit Dad Fitness was to pass along the ideas and techniques that have worked for me when it comes to beginning a fitness program, remaining dedicated to it, and eating healthier to ensure you maximize the time you spend being active.
This free eBook, Grow Your Own Tomatoes, is all about encouraging others to live an active, fit, healthy lifestyle; to not check out when it comes to your health, fitness and well-being; and to not rely on others to provide the results that only hard work, patience and effort can produce.
And its totally free — no questions asked! I won't even ask you for your email. I want this information in the hands of every dad, so enjoy, and share it with a friend.
Let's start planting.